The departure of Books Upstairs from Dublin's College Green is not at all as bad as I feared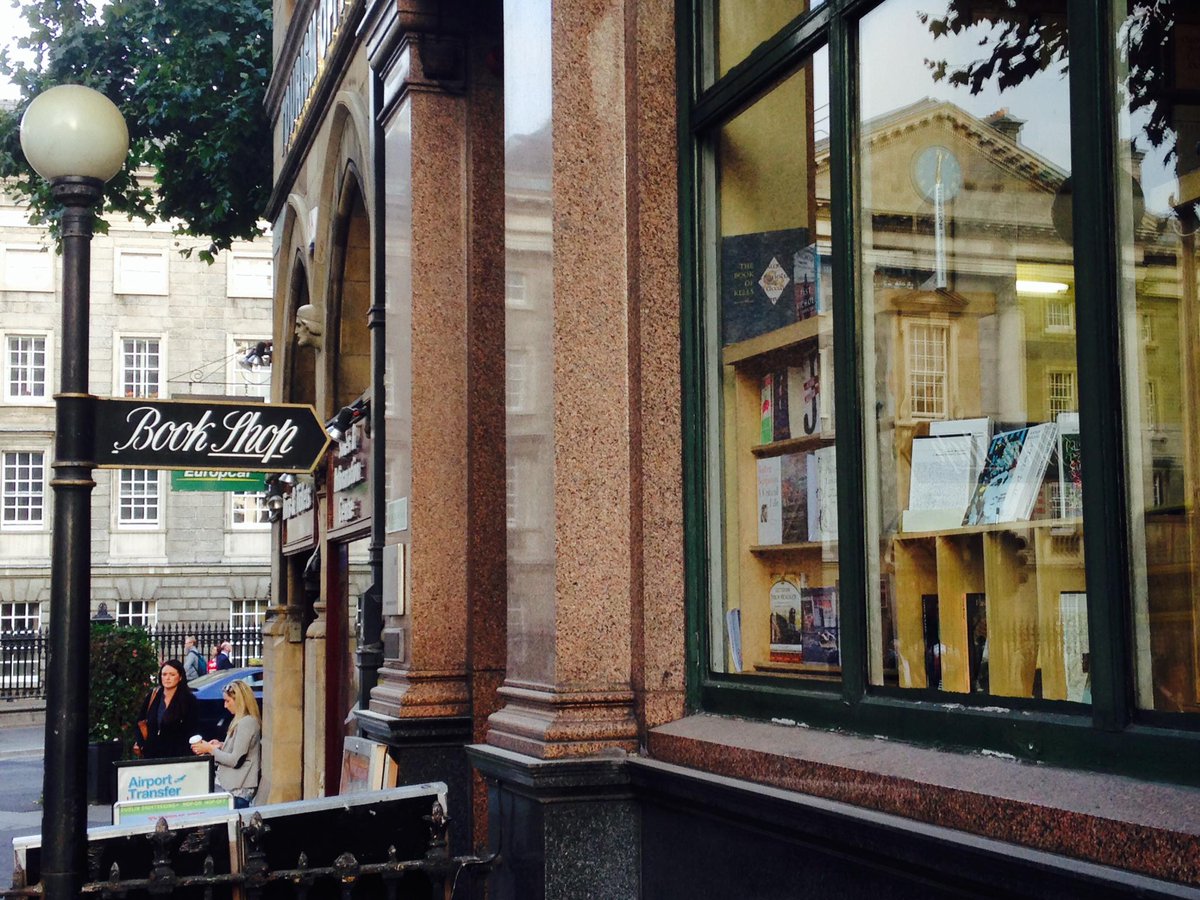 Today is World Book Day and as I've mentioned before, I have something of an addiction for the things – although I'm far more successful at accumulating them than reading them. There are certain bookshops around Dublin I can't pass without stepping into and too often, I can't leave empty-handed. My guess is that I end up buying at least five books for every one I manage to read, but as Sydney Smith once put it, there's "no furniture so charming as books."
The New York Times recently quoted George Orwell as saying that a bookshop "is one of the few places where you can hang around for a long time without spending any money", and it's very true (I don't always buy something). When I step into a good bookshop, I often get a giddy thrill, at once excited and daunted by the seemingly endless possibilities – excited by what I could read and daunted by what I'll never manage to. Excited or daunted, whether I buy or don't, a good bookshop is simply a wonderful place to be and to pass time. However, that Orwell quote appeared in an article entitled 'Assessing the health of independent bookstores' as an illustration of the enduring challenges of the independent bookshop to stay afloat. The article noted that over the past ten years more than one in three independent bookshops in the UK and Ireland have had to shut up shop, unable to compete with the large chains and online retailers.
Books Upstairs
So when I learned last month – via a writer friend ten thousand miles away – that Books Upstairs was leaving the bustle of College Green for the bleaker surrounds of D'Olier Street, I feared the worst.
If you don't know Dublin, College Green is the very heart of the city, the hub from which you can reach Grafton Street, Christchurch or cross the river to O'Connell Street in a handful of minutes. If you drew a regular triangle across the junction between the august facades of Trinity College and the Bank of Ireland, the unassuming old doorway of Books Upstairs could be the unlikely third point. Despite its grand and crowded surroundings, Books Upstairs remained humble and hushed, secretive and almost mysterious, as any good bookshop should be, its disorientating curved shelves and creaking makeshift mezzanine crammed with curious volumes begging for attention. It reminded me of Carl Conrad Coreander's shop in Michael Ende's The Neverending Story.
Its new home – D'Olier Street –  is more drab and nondescript than any city centre street has a right to be. Even before The Irish Times packed itself off around to Tara Street, it was already a barren and forbidding thoroughfare – eternally grey and sunless and populated only by people waiting for buses, home to little more than a couple of newsagents, a few nightclubs, a hostel and the blood donor clinic. Even the grubby old jokeshop is long gone, its premises dark and empty and mouldering for years. Until a few weeks ago, that is, when I noticed the facade had been repainted and the lettering over the door read Books Upstairs. It was good to see something open up instead of close down on D'Olier Street, and even better to see a bookshop . Still, I couldn't help but feel that this move away from the passing hordes, even though just around the corner, would be a step towards Books Upstairs eventual demise.
The news seems to be good, however. Staff told me the move was not prompted by cost – though the rent on College Green is astronomical – but by the lack of space. The old bookshop was tiny, cluttered with books, the passage around the display table so narrow that you had to stand on the far side of it to scan the shelves. There was nowhere to settle and if there was even one other person in there, sooner or later you'd inevitably have to move out of their way.
Considering its size, the range of books it carried was breathtaking. You can tell the character of a small bookshop by whether its limited space is filled with an equally limited range of reliable bestsellers or by a carefully-selected range of interesting titles. Even within its narrow confines, Books Upstairs created room alongside its literature offerings for excellent selections on philosophy, psychology, women's studies, gay literature and Irish history – not to mention an incredible range of literary, cultural and political journals. Giving more space to that talent for selection is good news indeed.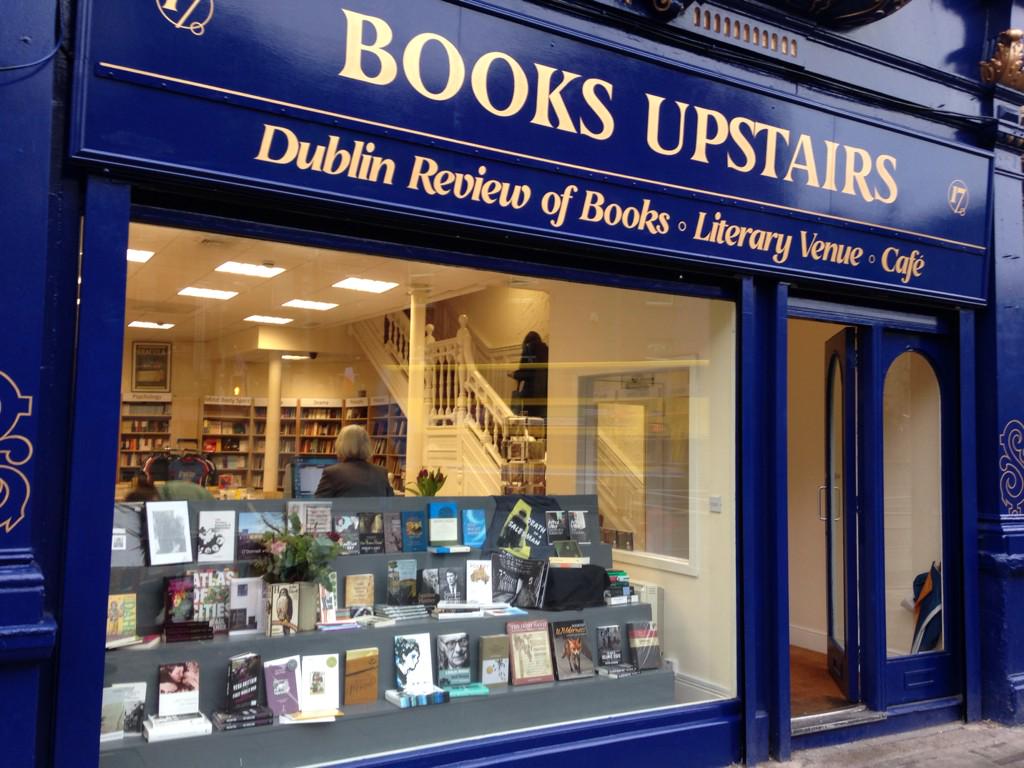 The new shop has that extra space – not much extra, mind you, but it uses it well. It still looks very new – so new it feels somehow less substantial and almost temporary. But considering that, despite its timeless ancient air, the old shop had actually only been on College Green since the mid-1990s, I don't doubt that Books Upstairs will soon settle into its new space like a pair of good slippers. While it is still small, it is a brighter, airier place with more room to move –  and with that comes something that the old shop was missing – comfort.
When you went to the College Green shop, you hung around despite its dark ramshackle cramp. But you didn't mind because you hung around for the books. The new shop has that same range of books and journals, but now it actually entices you to stay. Now there's room enough for a couple of armchairs to lounge and browse. What's more, while there aren't actually any books upstairs, there is a café, a light and lovely space with plenty of tables and a comfy sofa. Cushions line the big old bay window, affording a view (should you want it) down the D'Olier Street to O'Connell Street's Spire. But it's not the view that's special – it's the space to sit and read and drink tea while Stéphane Grappelli's violin swirls from the stereo. Having paid the new shop a few visits, I'm starting to think that the Dublin institution that is Books Upstairs has not so much moved as evolved.
Evolution
In an era of online sales and e-books, the threat to independent bookshops is very real. But that by no means they are doomed. Just like any organism, a good bookshop will have to adapt and evolve to survive. And I'm glad to see that Books Upstairs' move is one of adaptation and evolution, not of slow demise. Like Temple Bar's own small, selective and excellent Gutter Bookshop, Books Upstairs is planning to use its new space to host literary events. At any of the book launches and events I've attended in The Gutter, manager Bob Johnston has always been at pains to point out that it is largely these events are what allow small independent bookshops to continue to flourish. Sometimes change is for the best, and other iconic Dublin bookshops like the Winding Stair and Chapters have survived and thrived by changing. As Books Upstairs undergoes its reinvention, I am hopeful that the health of the independent bookshop in Dublin at least might be a little more hale than the statistics suggest.
One final point of note: Books Upstairs old store is, happily, still open for the time being, operating as one of those newly ubiquitous discount bookstores but with a better range of titles than most, so there's still time to revel in the old space while also checking out the new.
---
Do you have a a favourite independent bookstore? Or have you lost one you lament? Tell me about it in the comments below.